Climate-friendly ice cream arrives to London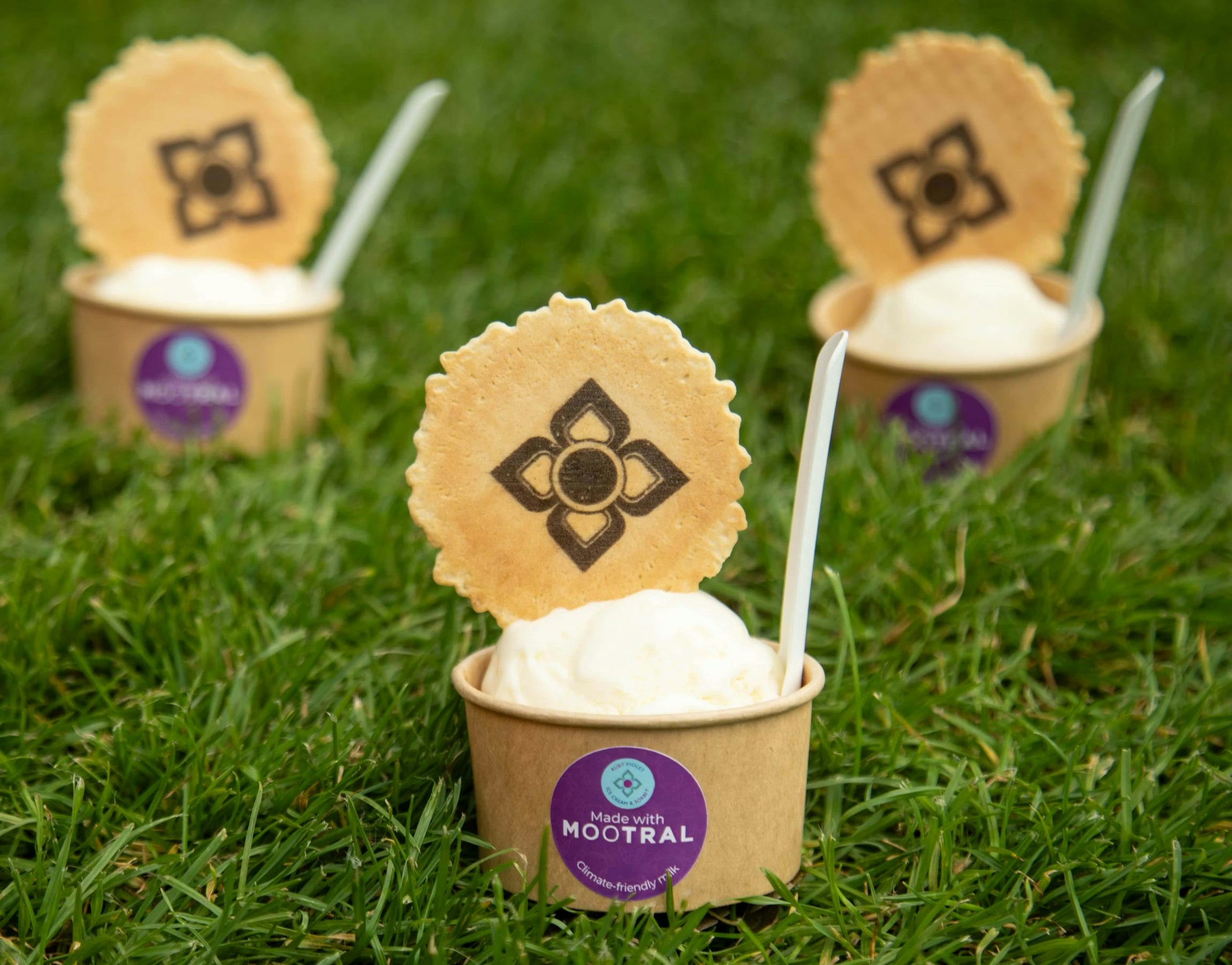 World's First Ever Climate-Friendly Ice Cream Arrives At London's Ruby Violet
MaxiMootral is the world's first ice cream made with climate-friendly milk from cows fed Mootral Ruminant, a 100% natural feed supplement developed by British scientists that reduces methane emissions at the source by reducing cow burps
MaxiMootral ice cream is a partnership between Ruby Violet and British agritech company Mootral
Free scoops of ice cream will be given away at the independent ice-cream makers' King's Cross store on 24 August. 

Ahead of the bank holiday weekend, Londoners will get an exclusive chance to sample a world first: climate-friendly ice cream made from low-emission milk. 
The British agritech company Mootral and Ruby Violet, the beloved ice cream destination in London's Kings Cross, have collaborated to co-develop an ice cream that is both delicious but also an important step in tackling the climate crisis. 
The new ice cream, MaxiMootral, is a play on Ruby Violet's popular MaxiMooMoo flavour. Unlike other attempts to reduce carbon emissions in the dairy industry which focus on transportation and refrigeration, MaxiMootral is made with climate-friendly milk that deals with the problem at its source: cow burps.
Made with milk from cows that are fed using Mootral's methane-reducing ruminant feed at Brades Farm in Lancashire, the ice cream showcases the potential for innovative solutions to climate change and how we move as a society to Net Zero. 
Mootral Ruminant is a 100% natural supplement developed by British scientists that contains compounds from garlic and extracts of citrus, which has been proven to aid digestion in cows and cut methane emissions from cow burps by up to 38%, while naturally increasing yield, improving critical health parameters and enabling the production of climate-friendly milk and beef. 
The potential to produce environmentally friendly milk could provide a significant boost for Britain's dairy farmers at a time when more and more people are questioning the impact of the food and drink they consume.
60% of the British public show a preference for sustainable brands (YouGov, 2021), but the industry is often slow to respond. MaxiMootral shows how this demand can be met, and reflects Mootral and Ruby Violet's commitment to fighting climate change by setting the standard for innovation, offering a product that's good for the planet, cows, and farmers alike.
Julie Fisher, founder of Ruby Violet said: "At Ruby Violet we really care about the environment and our impact on it, and working with the people at Mootral is an exciting and groundbreaking step to further lower our carbon footprint. Our MaxiMootral ice cream is an inspiring collaboration between two innovators working for a more sustainable future."
Thomas Hafner, CEO and founder of Mootral said: "The British people want sustainable choices, and we look forward to working with the British dairy industry to accelerate the provision of climate smart milk  to meet this demand. We are very proud of our work with British farmers to enable them to produce high-quality milk that has a significantly lower carbon footprint. Our partnership with Ruby Violet shows that delicious, yet sustainable dairy can be made accessible today."